The result for GSoC 2016 was set to be announced on April 23, 2016 at 00:30 (+0530 GMT). When the time arrived for the announcement, and to browse the list checking for self's name, the time almost got stopped for most of us. The wind of excitement, fear and tension was spread into all the students.

Congratulations to the 1,206 students accepted for #GSoC2016! Thanks to everyone who applied. Read more: https://t.co/j9S0tYoPxa

— Summer of Code (@gsoc) April 22, 2016
Well, after next 5 minutes I was finally able to figure out, that my project proposal got selected. It was an awesome feeling to finally see my name listed. The scenario in my college is completely different from any other college, and worth sharing. We have been #1 in terms of selection for many years now. (62 selections in 2015, 69 selections in 2015, and so on…)
You can find multiple GSoCers in each and every wing of the college, those are being beaten up by rest of their wing mates, along with that almost everyone of batch, waiting for their multiple juice parties from 00:30 to 2:00 in college canteen.
Congratulations to the International Institute of Information Technology – Hyderabad for claiming the top spot for the second consecutive year.
The incomplete stats from this year's selection are also available on our college's Open Source Developers Group here. (44 students count as per now)
My proposal
With interest in projects which are related to web and/or networking, and to possibly get research exposure, my main and only choice was to apply with Berkman Center. After days of reading and knowing about their project opportunities, I was left with 2 possible projects which included Amber and Teem.
Finally after investing some significant amount of time, I was ready with my proposal for GSoC 2016. I am also sharing selected proposal, so it can probably be helpful to all.
Selected Project Details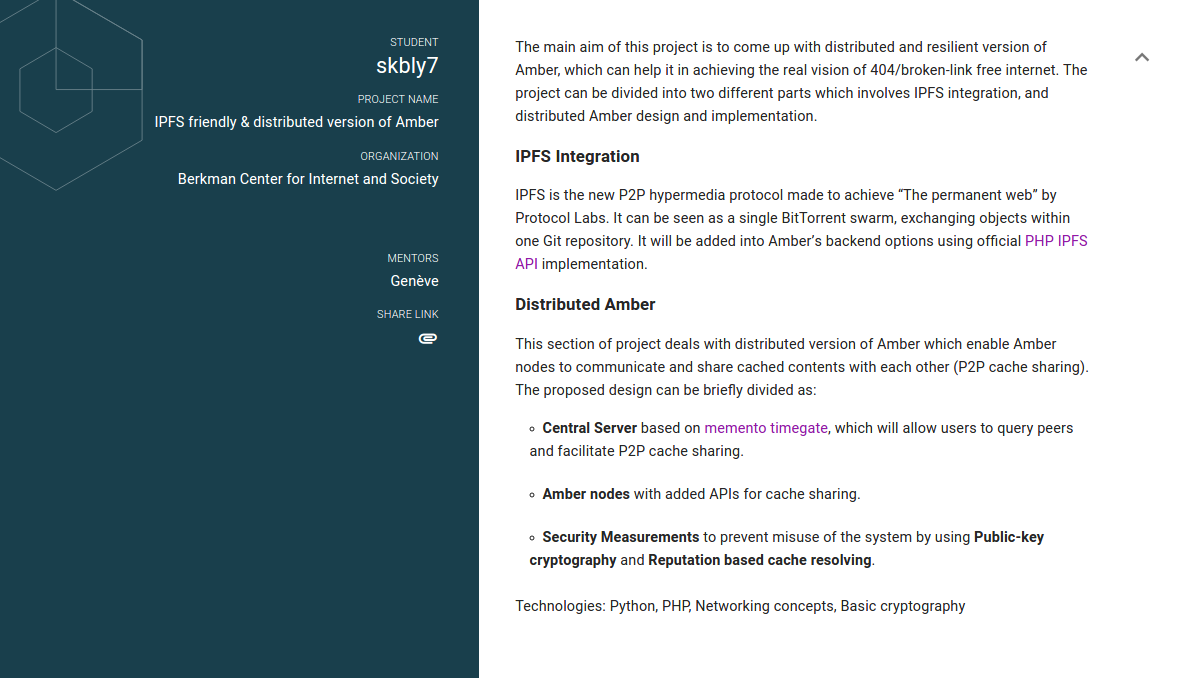 I would be looking forward to work as good as possible this summer for Berkman Center for Internet and Society under my mentor Genève Campbell. Thanks to my mentor and org to consider me worthy for their selection list. 😀
Excited to contribute to Amber project by @berkmancenter this summer. https://t.co/lwnvvsJyEF #GSoC2016

— Shivam Khandelwal (@skbly7) April 26, 2016
From friends 😀